Introducing Loyalty on Commerce7
More than 90% of companies have some sort of loyalty program to reward their customers - and for good reason! Valued customers are loyal customers, and loyal customers bring value to your business. A well designed loyalty program can help sustain long-term growth by increasing customer retention, creating strong brand associations and increasing sales, all while making your customers feel appreciated. With 78% of consumers being more likely to buy from a brand with a loyalty program, it's clear that it's worthwhile to invest in and reward your customers for their loyalty.  
That's why we're delighted to introduce you to Loyalty on Commerce7. We've created an all in one solution built right into Commerce7 designed to help you harness the power of loyalty and build lasting relationships with your most valued customers. 
Engage Customers with Loyalty Tiers that Offer Exclusive Benefits  
Loyalty programs create a mutually beneficial relationship between your business and your customers. You provide your customers with exclusive benefits and perks creating positive associations with your brand and in return, you see a positive impact on your ROI. However, not all loyalty programs are created equal. In fact, tiered loyalty program owners reported a 1.8x higher return on investment compared to programs that do not offer tiers so with Loyalty on Commerce7, we've made sure that you have the ability to create multiple tiers to help take your loyalty program to the next level.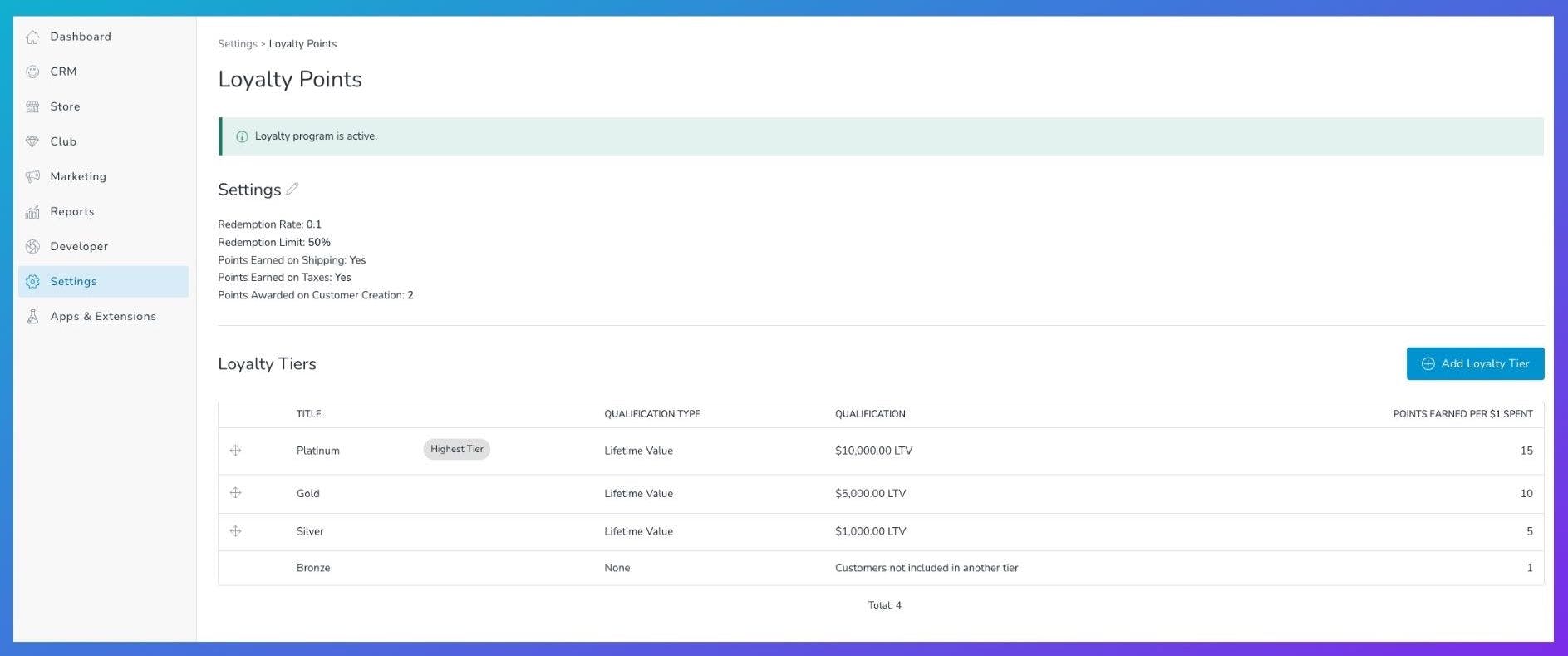 Tiers are an incredible tool to make your customers feel appreciated - the higher the tier, the better the rewards and the more exclusive the brand experience. Tiers gamify your loyalty program and provide a goal for your customers to aim for which acts as an incentive to keep them engaged. By setting milestones based on earned points, customers are motivated to spend more or join a new club to move into the upper tiers, ultimately increasing their lifetime value. 
Make Your Customers Feel Valued 
One of the biggest benefits of a tiered loyalty program is how special it makes your customers feel. By giving better rewards to your most valuable customers in your upper tiers, you are showing them that you highly value their continued support. On the other hand, offering lesser incentives to newer or less frequent customers still shows that you are willing to invest in their brand experience and value their business regardless of tier level, which builds loyalty over time. It's a win-win scenario. 
Loyalty on Commerce7 allows you to create a multi-tier loyalty program where you can group customers together based on their LTV, club or yearly spend. Each tier can be assigned a different level of points earned per dollar spent to ensure that they are getting their own exclusive perks that reflect the value of their business.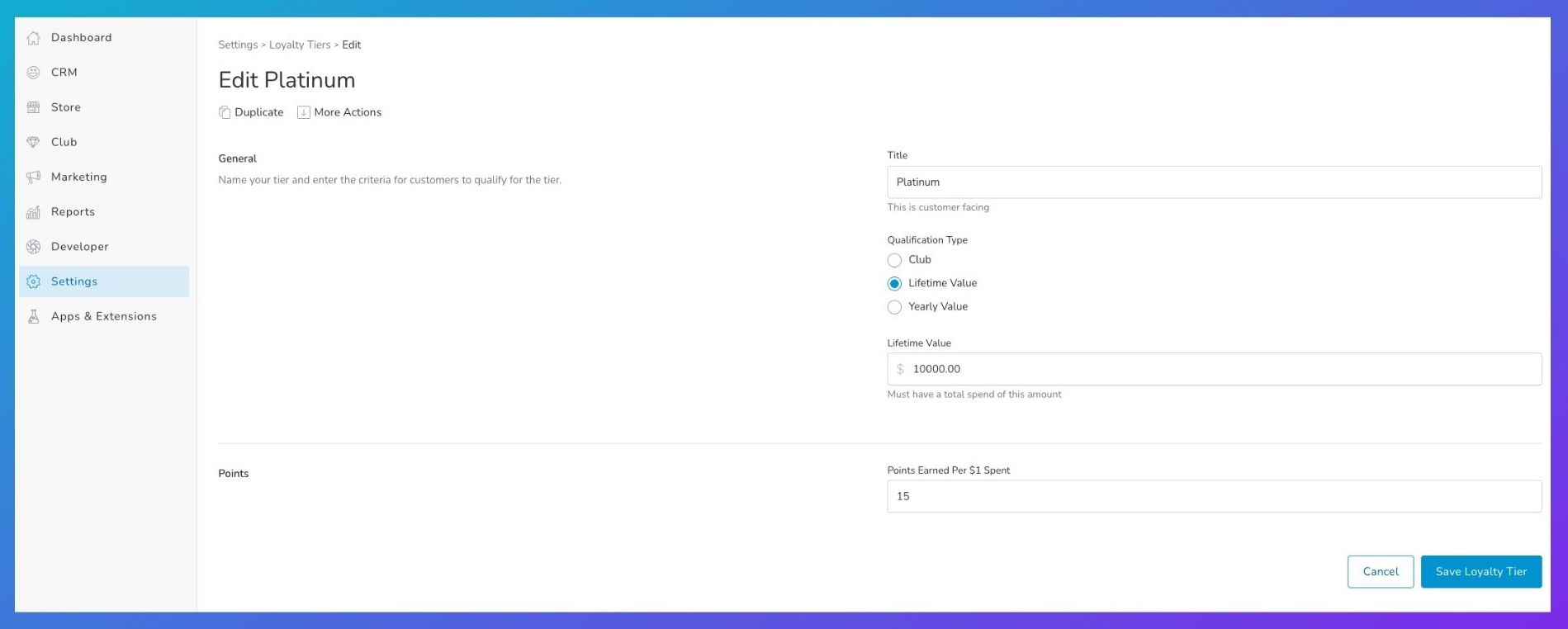 When you first open Loyalty in the C7 admin, you'll be prompted to configure the global redemption and earning settings to determine how customers qualify for your loyalty program.   These settings include the redemption rate, redemption limit and points awarded on customer creation. The redemption rate is the dollar value per point, the redemption limit is the percentage of an order that can be paid for in points and the points awarded on customer creation gives you the option to automatically award points to new customers. These settings are the basis of what incentivizes your customers to belong to your loyalty program and answer the question, "What's in it for me?". 

By default, customers will earn rewards based on their order subtotal, but you are able to configure it to allow customers to earn rewards on shipping costs and taxes as well. Set up your program to reflect how your business views loyalty and reward your customers based on the criteria you see fit. It's that simple. 
Streamline Your Customers Reward Experience 
While the quality of your loyalty program will have a direct impact on its success, you can't rely on this alone to engage, and retain your customers. Creating exceptional customer experiences is key to building loyalty. 
With Loyalty on Commerce7, it's incredibly simple for your customers to view and redeem their points, making for a pleasant rewards experience from start to finish. When customers log into their account online, they'll see an overview dashboard with their current status, points balance and the option to view a full history of their points. It's easy for them to keep track of their rewards and what is required to move up into the next tier.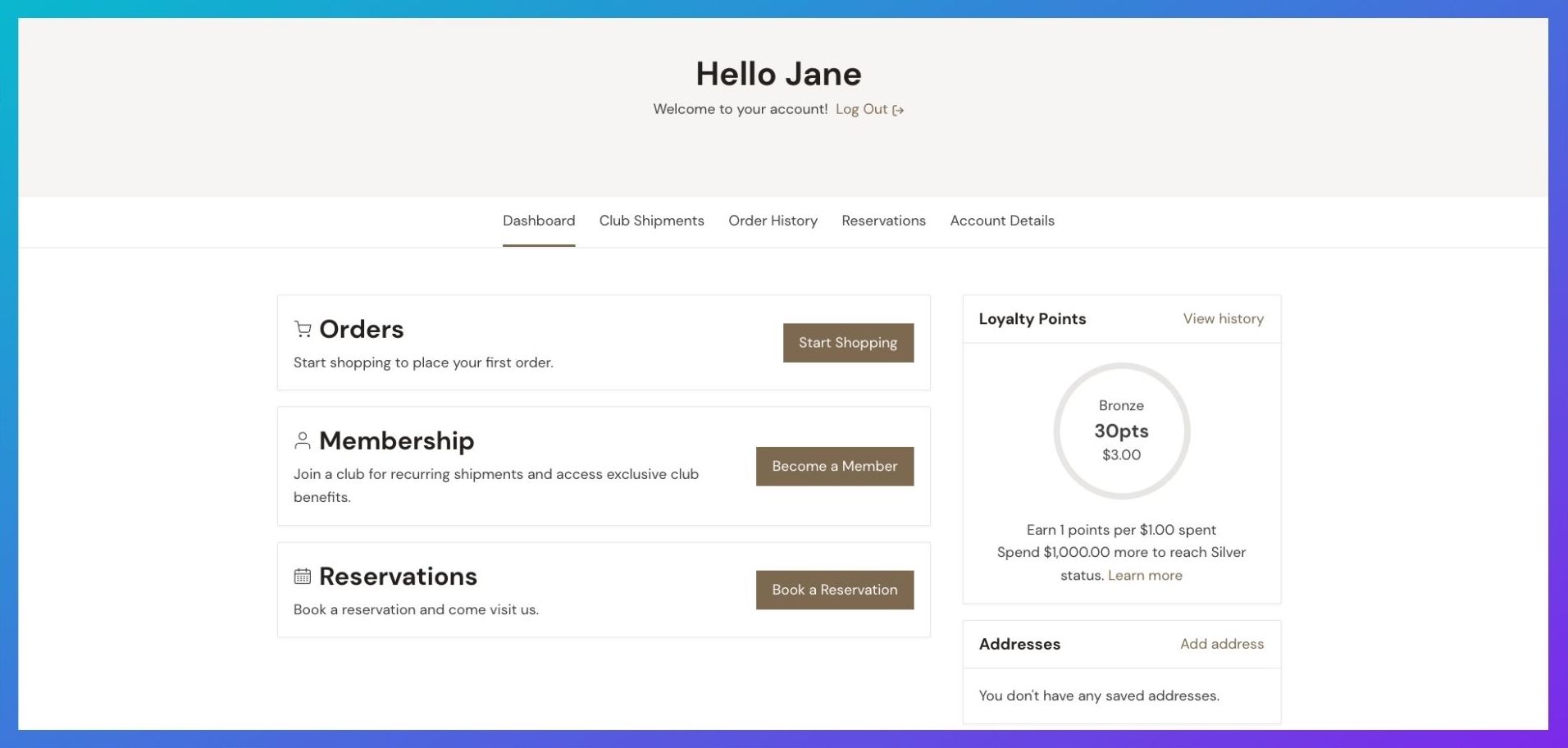 When it comes to redeeming points, C7 Loyalty has made it as seamless as possible for customers to use their points towards their purchases. Customers can redeem their points for dollars off of their order in the tasting room through your POS system, online through your website, or a staff member can redeem points in the C7 admin on the customers behalf.
POS: 

Online: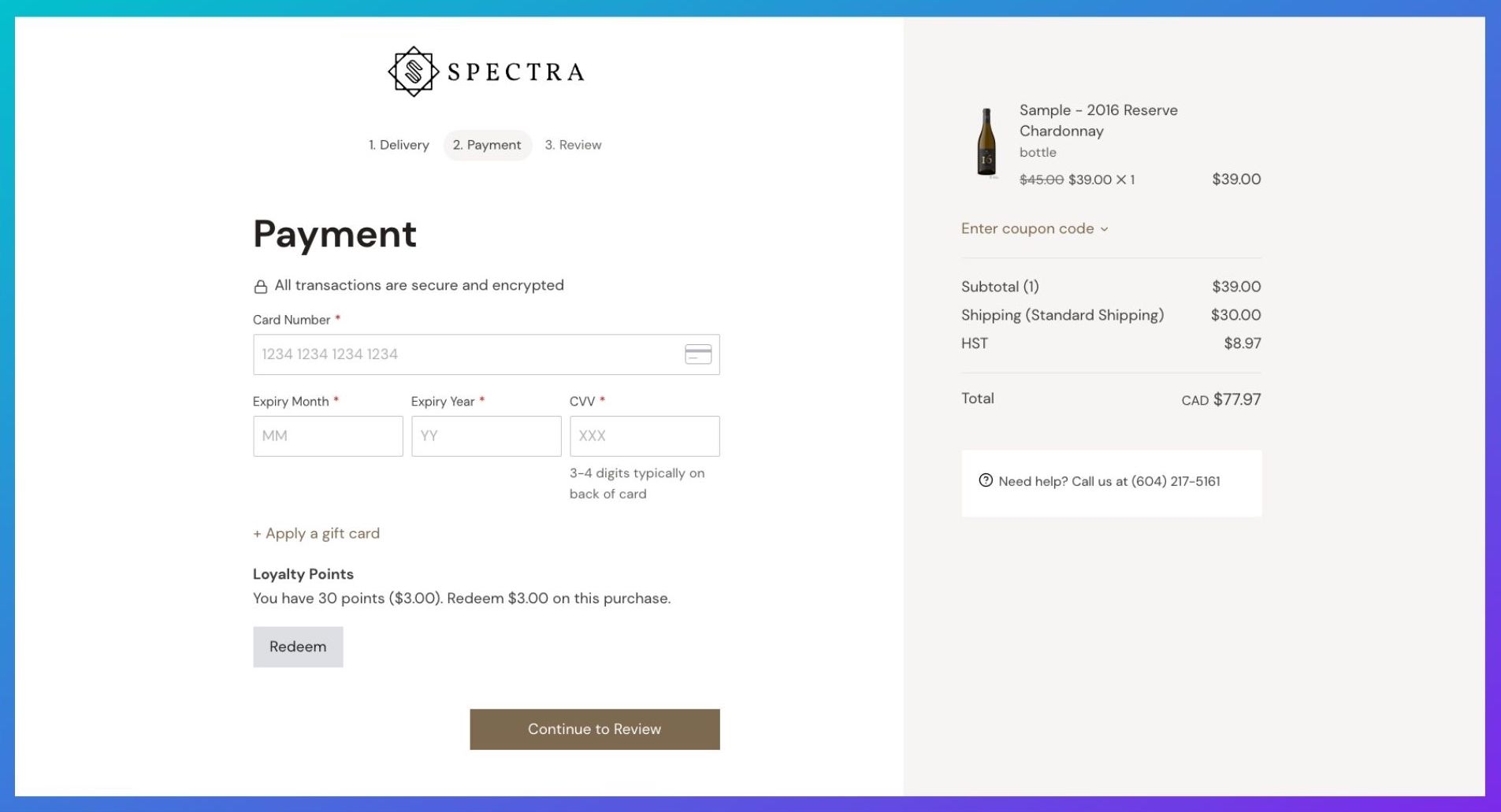 Admin: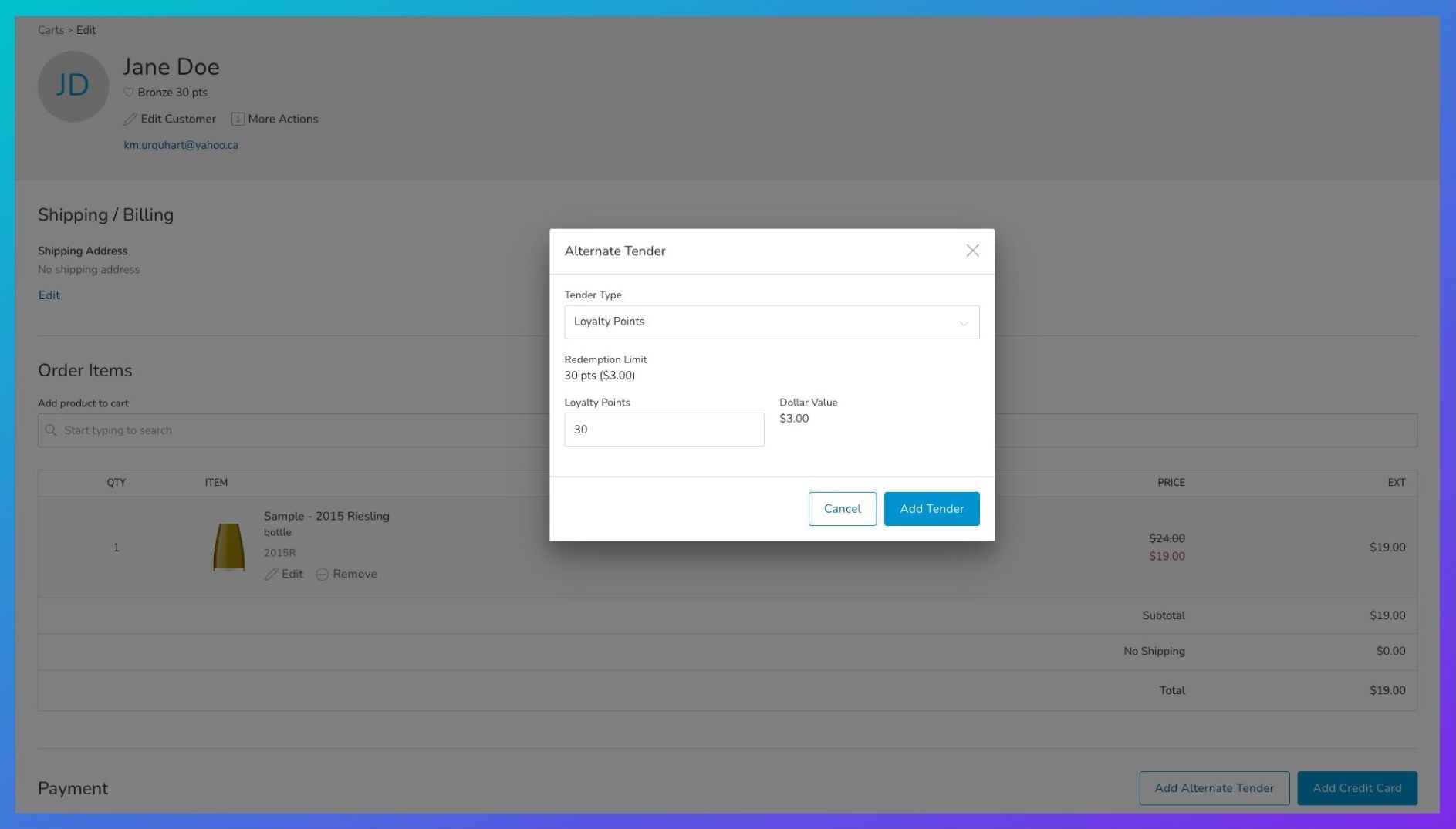 Easily Manage Customer Reward Points  
Whether you want to offer additional points to a particular customer, run a points promotion or simply remedy an error, it's important that you're able to update your customers' points balance with ease. To give wineries full control over their loyalty program, admins can keep tabs on a customer's point history in addition to manually adding or removing points in the customer profile loyalty tab. 

Get Started with Loyalty on Commerce7
Rewarding your customers for their loyalty is pivotal to your business. With so many options for consumers today it's important to stand out from your competitors, and the Loyalty feature on Commerce7 will help your winery do just that! Drive more sales and start building stronger relationships with your customers all conveniently from your Commerce7 tenant. 
Check out our help documents to get started.