Vancouver, British Columbia - Today, Commerce7 announced several exciting new features that focus on improving the day to day efficiency of wineries. Over the past year, the team at Commerce7 has spent a lot of time visiting wineries to better understand how they operate their DTC business, and their new releases are a direct reflection of the feedback they received. These upgrades, coupled with Commerce7's existing suite of winery-centric features ensure their users have the tools they need to seamlessly run their everyday operations. 
"Every year we continue to push the bar, launching hundreds of new features a year — but once or twice a year we do larger releases. I'm really excited about this release.  We spent countless hours talking to wineries and these club, payment, email, and reservation features are a direct result of the input we received." said Andrew Kamphuis, President of Commerce7.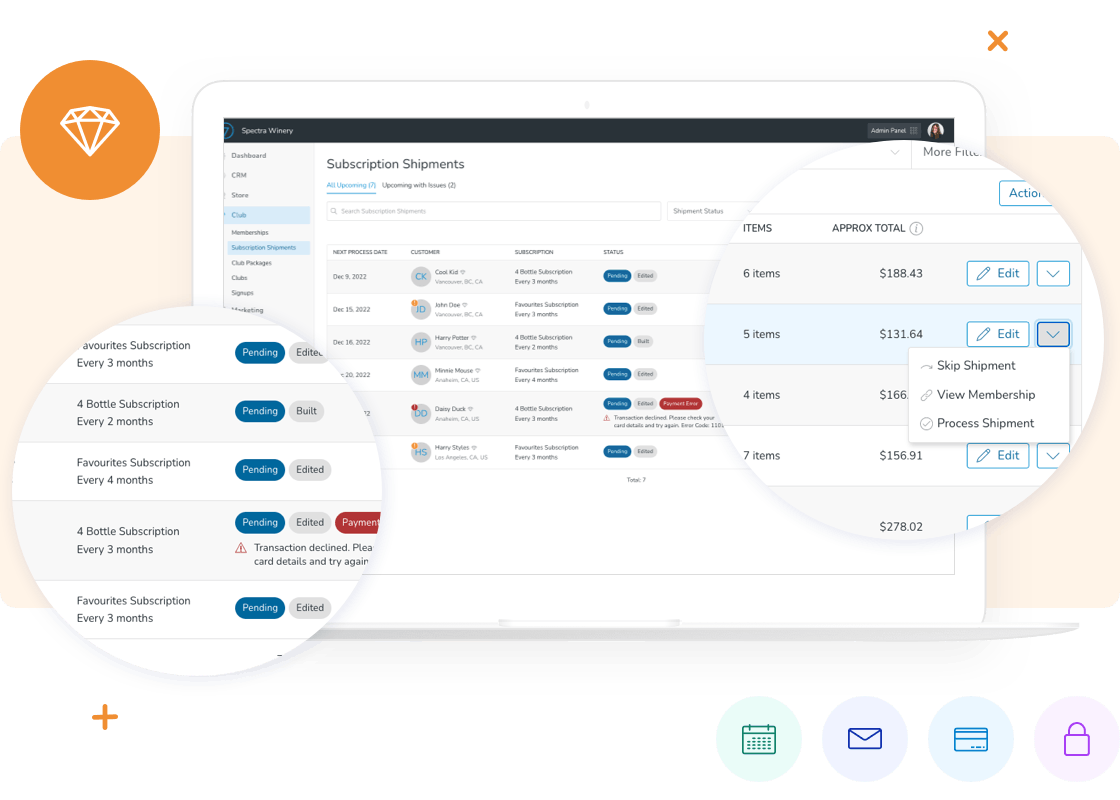 Enhanced Club Workflows 
There's a lot that goes into managing a club and club shipments. With Commerce7's latest updates, new club features are designed to help wineries operate easily and efficiently within their day-to-day workflows — all paired with a more streamlined frontend experience for club members. 
New club features include: 
Club Items on Signup - If users have a subscription club, or a traditional club that allows for user choice, customers can select their products as they sign up showcasing the flexibility of clubs to customers right off the bat. 
Club Shipments & Inventory - Club management has never been more efficient. Users are able to see and work with shipments across all of their clubs. Search inventory, retry declines, find members and more from one convenient spot in the Commerce7 admin panel.  
Club Package Setup - It's easier than ever for users to set up a club package. It's now just one step, with all settings managed through a single screen. 
Exchanges - Exchange products in a club package mid processing in case of limited inventory quantities. 
Club Shipments - Add any item to an individual shipment, whether it's available in the club package or not, making it easier to customize club shipments on an as needed basis. 
Declines - If customers update their credit card and are on one of Commerce7's modern payment gateways, their club shipment will be retried automatically one time, eliminating the inconvenience of having to track and process them manually. 
Payment Upgrades
The updates made to payments across the board bring enhanced performance and cutting-edge capabilities to the Commerce7 point of sale system. 
New payment features include: 
Apple Tap to Pay (United States) - U.S wineries using Commerce7 Payments can now securely accept contactless payments including debit and credit cards, Apple Pay, Google Pay, Amazon Pay, and other mobile wallets through a single tap on an iPhone. No payment terminal required. 
Statements (United States) - Statements are now available inside the admin panel for customers using Commerce7 Payments, streamlining the reconciliation process. 
Paystack (Africa) - Commerce7's modern, feature rich V2 Frontend is now available to all South African Wineries. 
Sumni Device (Africa) - Soon available to all African clients, the Sumni device can run Commerce7's entire point of sale system and offers a touch screen, chip reader, and PIN capabilities with no payment limits. 
Tipping (Australia & Canada) - Customers can now tip directly on an EMV device with Stripe in Canada, Australia, and everywhere Stripe is used outside of the United States.
Redesigned Emails
With branding at top of mind, the changes made to emails on Commerce7 give users more control over the visual appearance of emails sent through the platform, in addition to a content refresh of transactional emails to ensure wineries are able to put their best foot forward. 
New email features include: 
Theme Builder - Commerce7 has introduced an email theme builder making it easy to set up your header, footer, color scheme, buttons, fonts and automatically apply these edits to all of your campaign and transaction emails to achieve cohesive branding. 
Transaction Emails - Multiple transaction emails including order confirmation, club shipment reminder, and reservation confirmation have been reworked to be more clear and visually appealing in addition to two brand new emails - reservation and order pickup reminders. 
Improved Reservations 
Reservations are an important part of any DTC winery, and with Commerce7's latest update, customers have more control over their reservations all while reducing the number of manual steps required by staff. 
New reservation features include: 
Cancel Online - When users set up the reservation type, they have the option to allow customers to cancel online, giving customers the tools to manage their reservations as needed. 
Apple Pay - Customers can now pay for reservations using Apple Pay, creating a faster, more secure checkout experience. 
Strengthened Security
Security is one of Commerce7's top priorities, and with the recent updates to security, both user and customer data are better protected through stronger safety standards and password enforcement. 
New security features include: 
Two Factor Authentication - If enabled, 2FA will prompt the Commerce7 system to send a code to the user that they will need to enter to successfully login, adding an additional layer of account security. 
Password Security - All new accounts will have to have a 12 digit password to further reinforce password strength. 
-
About Commerce7 
Commerce7 is a modern DTC platform for wineries focused on providing customer-centric commerce solutions. Innovative features including being 100% API based, a top shelf personalization engine and modern ecommerce and club tools has made it the platform of choice for over 1,400 wineries worldwide looking for a more cutting edge solution. Regardless of size, all clients on the Commerce7 platform have access to the entire suite of products, features, and functionality.
For more information, visit www.commerce7.com.