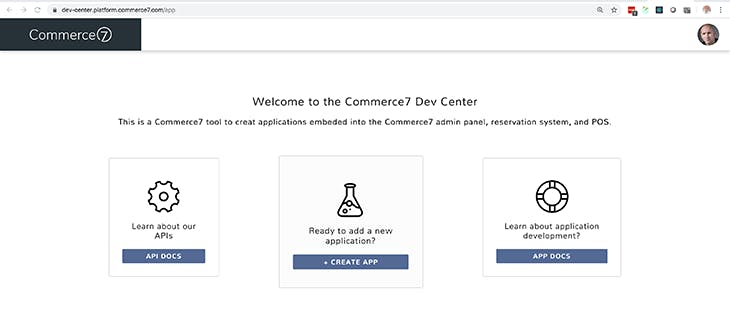 Downloadable Assets: Dev Center 1 | Dev Center 2 | Commerce7 Logo |
January 20th, 2020, Vancouver, BC, Canada:
Commerce7, a modern DTC platform for the wine industry, launches The Commerce7 Dev Center. The Dev Center provides a way for third party developers and businesses to build and launch apps, plugins, integrations, and customizations deep within the Commerce7 platform.
"Being 100% API based, our platform has always been the most flexible, dynamic, and easy to customize solution out there. Our APIs are world class, performant, and extensive. Many partners have used our APIs to build great things. Today - we've pushed the bar even higher" says Zach Kamphuis, General Manager of Commerce7. "With the launch of the Dev Center, 3rd party developers can now take their customizations even further. They can build reports right inside our admin panel, they can put a card or a tab right on a customer record, they can make customizations or additions to the POS screen, they can even build custom exports right inside the platform." say Zach Kamphuis.
Custom Reports
Wineries who are looking for unique reports that are not already found in the Commerce7 platform are now able to have custom reports built and accessible inside the Commerce7 admin panel.
Custom Apps
Third party businesses and developers can now build, launch, and sell apps on the Commerce7 platform. Apps are integrated deep into the platform and can change the default UI, functionality, and available workflows in Commerce7. Wineries are able to purchase and activate any app available within the Commerce7 app store.
Custom Functionality
Apps built by third party developers can be embedded throughout the Commerce7 Admin Panel, POS, and Reservations - including embedded onto the customer screen, order screen, product screen, club membership screen, and report screens.
--
About Commerce7
Commerce7 is a DTC platform focused on providing customer centric commerce solutions to the wine industry. Innovative features such as being 100% API based, their personalization engine, and modern ecommerce and club solutions has made it the platform of choice for wineries looking for a more modern solution. Regardless of size, all clients on the Commerce7 platform have access to the entire suite of products and all features and functionality.
Contact
Zach Kamphuis, 604-217-5161, zach@commerce7.com