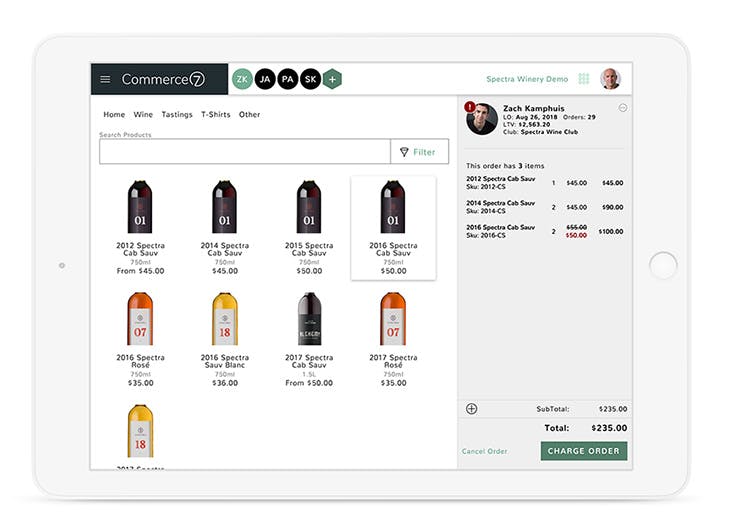 Downloadable Assets: POS Image 1 | POS Image 2 | Commerce7 Logo |
August 28th, 2018, Vancouver, BC, Canada:
Commerce7, a modern winery DTC platform, has added a point of sale (POS) system to their suite of products. The POS provides wineries with an easy solution for processing tasting room orders, streamlining workflow and leverages existing data to allow staff to efficiently manage customers.
"At Commerce7, we are really excited about our POS! We're offering an innovative solution that's fast, streamlines winery operations, and puts the customer at the center of the transaction." said Andrew Kamphuis, president of Commerce7.
Built with the modern winery in mind, the Commerce7 POS enables wineries to accept payment via EMV chip and pin cards, or mobile wallets such as ApplePay or GooglePay.
This cloud connected POS allows for staff to easily access all existing customer, order, and club data. The POS highlights key customer info such as lifetime value, last order date, and active club memberships right at the register. Wineries also have the ability to add their own custom attributes to track valuable consumer information.
The POS enables wineries to streamline their operations with smart notifications, allowing easy management of pickup orders, club shipments, and other customer service issues. Staff have the ability to manage multiple orders at one time, add new and edit existing customer information, and toggle between customers in real-time.
The Commerce7 POS platform is available today and runs on Apple, Android, and Windows.
To learn more about how this POS can streamline your business processes, visit www.commerce7.com/product/pos
About Commerce7
Commerce7 is a startup focused on providing customer centric commerce solutions to the wine industry. Innovative features such as being 100% API based, ability to accept modern payment methods, modern ecommerce and club solutions has made it the platform of choice for wineries looking for a more modern solution. Learn more at: www.commerce7.com
Contact
Andrew Kamphuis, 604-613-5343, andrew@commerce7.com