Vancouver, British Columbia - Today, Commerce7, the leading direct-to-consumer sales platform for the wine industry, has announced the launch of restaurant tools including POS modifiers and kitchen ticket printing. These tools were designed to help wineries with food options streamline their operations by simplifying the management of menu items and kitchen orders.
With POS modifiers, Commerce7 users can create modifier groups for a product, allowing them to easily manage and offer a variety of food and drink modifications – without having to create a new SKU for each variation. Additionally, the kitchen ticket printing feature enables wineries to easily print kitchen tickets for food orders directly from the Commerce7 POS system.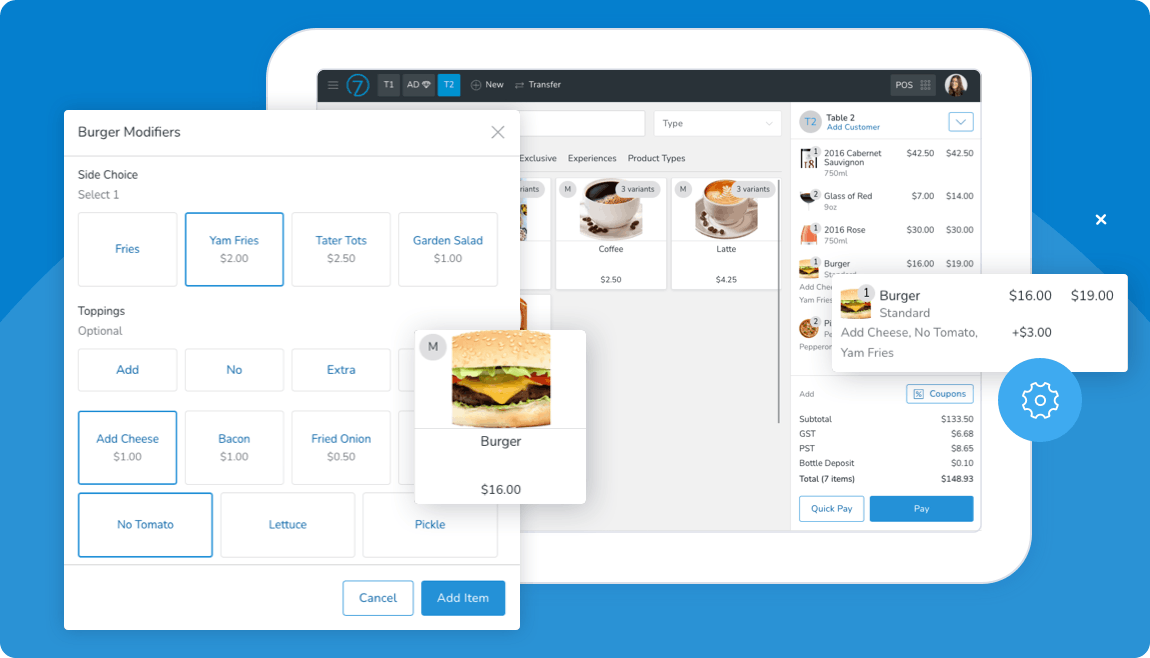 "We are seeing more and more wineries introduce food in their tasting experiences", says Andrew Kamphuis, president of Commerce7.  "Furthermore many wineries, especially wineries outside of Napa have restaurants.  The Commerce7 restaurant tools answer this need where wineries benefit from having all of their DTC experiences on a single platform and the benefits from a single customer record across all channels."
Simplify menu item management and maximize efficiency with POS Modifiers 
Product flexibility and customization: Modifier groups can be easily added to a product from the product management settings, and wineries can add as many groups and options as they need. In addition, wineries can assign a dollar value to each modifier in a group. 
Streamlined ordering process: Prefixes such as "add," "no," "extra," or "side" can be enabled for modifiers. 
Efficient and effective communication between staff: Wineries can add notes to any modified products ordered via the POS. 
Clear visibility of order details: All modifiers for a product can be viewed in one list in the POS cart, allowing for clear visibility of the base price, modifier price, and any associated notes.
Easy identification: Products with modifiers are clearly marked, making it easy for users to identify them in the POS system.
Conveniently print kitchen tickets for food orders directly from the Commerce7 POS 
Fast and efficient kitchen ticket printing: When on an order in the Commerce7 POS, wineries can click "Send items to kitchen" and select the order items they want to send which will then go to the selected printer to print. 
Simplified order management: Once a ticket is sent, the quantity marker in the cart will be updated providing a visual indication of the status of the order. 
"The introduction of restaurant tools will help us continue to push the customer experience for our client base" states Kamphuis. 
The POS modifiers and kitchen ticket printing features are now available to all Commerce7 users, at no additional cost. Further details about Commerce7's Restaurant Tools are available through the company's help documentation. 
About Commerce7
Commerce7 is a modern direct-to-consumer sales platform for wineries, focused on providing customer-centric commerce solutions. Pulling together POS, Clubs and Subscriptions, eCommerce, CRM, and Reservations into one advanced platform, Commerce7 creates better shopping experiences - regardless of the channel.
For more information, visit www.commerce7.com.